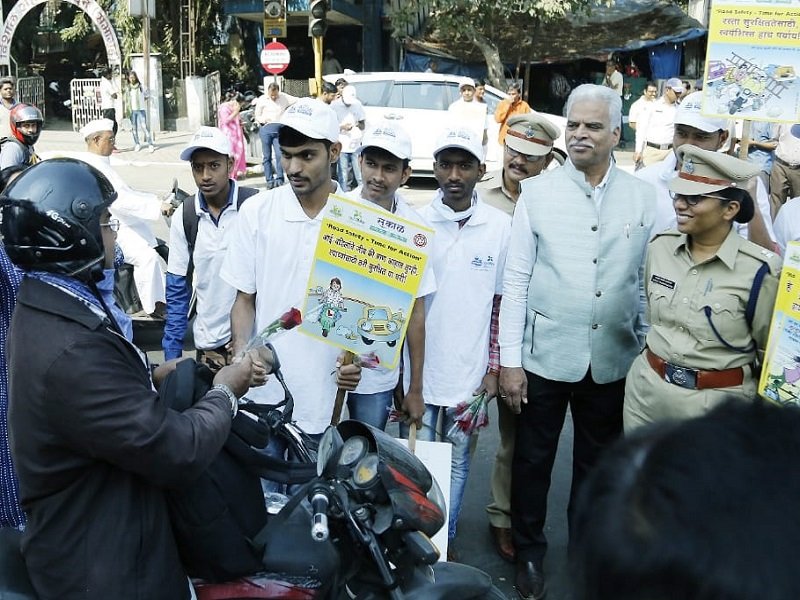 A grassroots level initiative to educate the masses on traffic rules
Under the mission 'Clean Pune, Green Pune' an innovative activity was conducted by Maharashtra Natural Gas Ltd. (MNGL) in association with SSF and with various voluntary organizations. Even students from Young Inspirator Network (YIN) and Vidyarthi Sahayyak Samiti also participated in this drive. In this drive, banners on road safety were displayed at 9 crossroads of Pune as well as 6 of PCMC, riders keenly observing traffic rules were greeted with roses and informative educative flyers were distributed. This activity was organized for a week.
The campaign was initiated at the Good Luck Chowk, Deccan. MNGL's Chief Finance Manager, Mayuresh Ganu, Senior Marketing Manager, Amol Hatti, Deputy General Manager, Sunil Ruikar, Assistant Manager, Rajeshwar Verma with CSR Head Preeti Gupta were present and took part in the proceedings. Sakal's General Manager, Rakesh Malhotra and Uddhav Bhadsalkar of SSF were also present.